Home
---
The National Sports Medicine Institute is a full-service sports medicine and orthopaedic clinic situated in Lansdowne, Virginia. The clinic services include state of the art sports injury evaluation and treatment by highly trained orthopaedic sports medicine specialists. The clinic also offers coordinated state of the art diagnostic imaging and physical therapy services.
The mission of NSMI is to establish in the field of Orthopaedic Sports Medicine, a local, national and international leadership role, by providing the highest standard of sports orthopaedic care combined with outstanding programs of education, research and performance enhancement to benefit athletes at all levels of competition.
The clinic has the ability to care for the most distinguished elite athlete and offer the same level of care to the recreational athlete as well as those desiring mobility and active lifestyles.
Our practice is founded on achieving excellence in Orthopaedic Surgery, demonstrating integrity in our physician-patient relationships, providing compassionate care for our injured clients and promoting wellness as a priority in life. We strive for teamwork among health care professionals as a means to optimize surgical outcomes. We innovate in order to enhance athletic performance and validate our success with peer
What is special about Sports Medicine is that it is a field of medicine that requires both an understanding of, and interest in sports and an intimate knowledge of what is available for helping the injured athlete, as the latest surgical and reconstructive techniques and the most effective therapeutic modalities
Timothy S. Johnson, MD

Dr. Timothy Johnson is an Engineer from Yale. He is also a graduate of the Yale University School of Medicine. He completed his Orthopedic Surgery residency and his Sports Medicine and Shoulder Surgery Fellowship at the Hospital for Special Surgery in New York, NY.
Dr. Tim Johnson is an Assistant Professor of Sports Medicine, Shoulder and Elbow Surgery at the Johns Hopkins School of Medicine.
He is currently a Team Physician for Major League Baseball's Baltimore Orioles since 2003. He is experienced in the care of elite athletes participating in a variety of sports including the following; NCAA Division I – the St Johns Redstorm, and the Iona College Gaels, the NFL's New York Giants, Major League Baseball's New York Mets, Minor League Baseball's Hagerstown Suns and the Aberdeen Ironbirds.
Learn more about Timothy S. Johnson, M.D.
David C. Johnson, MD

Excerpt from "Black Enterprise Magazine" 2005
DR. DAVID C. JOHNSON
Orthopedic Surgeon
Why he's hot: With arthroscopic surgery for the shoulder, elbow, and knee as his specialty, David C. Johnson has used his services to maintain the A-game of a number of professional athletes. The Long Island, New York, native practices his craft at The National Sports Medicine Institute in Lansdowne, Virginia.
His skills have earned him a fellowship at the famed Steadman Hawkins Clinic in Vail, Colorado, where many professional athletes undergo treatment. He's creating a state-of-the-art facility to benefit athletes of every playing level.

Dr. Johnson is listed as a top doctor in the Washingtonian Magazine 2008 and 2010.
Learn more about David C. Johnson, M.D.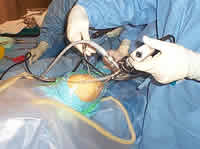 Arthroscopy
The arthroscope, an instrument that allows the surgeon to look directly inside your joints, diagnose and treat many problems, has rapidly expanded the field of Sports Medicine. Many arthroscopic procedures we perform, such as an Anterior Cruciate Ligament (ACL) reconstruction, once required major open surgery and a hospital stay of at least two days.
We now perform an arthroscopic procedure to repair the ACL utilizing a patella tendon graft or hamstring graft requiring only minor incisions and same-day discharge from the hospital. Read more>>